Anyone looking to improve their eye health, should start with examining their daily diet and lifestyle choices. New figures revealed by the Macular Society show that  nearly 1.5m people in the UK are affected by macular disease – the nation's biggest cause of sight loss. This is highlighting how eye health problems are a major public health issue.

One of the easiest ways to manage and prevent poor eye health is to start by eating antioxidant rich and Lutein rich foods. Lutein is the powerful antioxidant found in a variety of foods that can help to protect and maintain healthy cells in the eyes. Fruits and vegetables are good sources of Lutein as studies show they can decrease the risk for age-related macular degeneration.
Eating leafy green vegetables such as spinach, kale and green collards like broccoli and cabbage are rich in both Lutein and Zeaxanthin; along with Vitamin C for supporting and maintaining connective tissue – including the collagen in the eyes. Substantial amounts of Lutein and Zeaxanthin can be found in dark green leafy vegetables – containing 15-47%, with a very low content (0-3%%) of Zeaxanthin.
By ensuring you are eating a variety of lutein rich vegetables you can protect your eye health and potentially prevent a wide range of conditions in the long-term.
Good Health Naturally™ Lutein Soup Recipe

This hearty and healthy vegetable soup is an excellent source of Lutein and one of the best food recipes to eat to ensure you protect your eye health in the long-term. You can download the Lutein Soup Recipe PDF here.
Eat it most days at breakfast, lunch, or for an evening meal.
Make enough to last for 3-4 days if you have room to keep it in the fridge. One idea is to put each day's soup into 'Tupperware' type containers, which may fit into the fridge easier.
Choose 5-6 vegetables, only include 1-2 root vegetables:
Kale (important)
Purple broccoli
Carrots
Spinach
Peas
Green beans
Broccoli
Brussels sprouts
Cabbage
Asparagus
Spring greens
Watercress
Cauliflower
Red & yellow peppers
Seaweed (noni, kelp, wakame, etc.)
Plus
• Onions (ample amount) • Celery
• Tinned tomatoes
• Garlic
• Tinned beans (Choose 2-3 types, e.g., haricot, soya beans, kidney beans, chickpeas, ballotti beans, lentils, black eyed beans; all tinned, sugar free, ready to use, dried, or cook your own.)
• Rock salt or Celtic sea salt • Vegetable stock cube
• Seasoning
• Oil
Cooking Instructions:

Put 2 tablespoons of oil in a large pan; chop onion, carrots, and celery. Cook for approximately 5 minutes.
Add rest of chopped vegetables, tinned tomatoes, and boiling water, plus the vegetable stock cube and minced garlic.
Do not boil, just simmer for 5-10 minutes until just cooked.
Remove from heat and then blend to suit your taste.
Return to pan and add pulses and beans.
Allow to cool, and then refrigerate in containers or pan.
Makes enough to last 4-5 days if kept in fridge. It can be frozen, if necessary.
Recommended Reading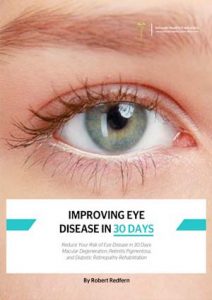 Improving Eye Disease in 30 Days – Find out how to naturally improve your eye health condition by following the nutrient and lifestyle recommendations outlined in this book. Written by Robert Redfern of Naturally Healthy Publications, this guide can show you how to find relief for a wide range of eye diseases. Available to download as a free ebook from Naturally Healthy News.
Recommended Examples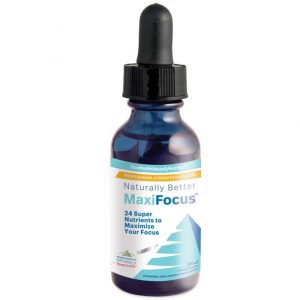 MaxiFocus™ – Contains 24 super nutrients and antioxidants including Vitamin D3. delivers 100mg of Lutein, along with Vitamins A, C, E, Zinc and Copper as recommended in the AREDS formulation. Delivers a complete spectrum of eye nutrients that absorb at least 900% better in a sublingual formula than the tablet equivalent. In most cases, the nutrients are in the eye within 2 minutes. Available from Good Health Naturally.